Centre for immunobiology and immunotherapy
Major programs
Objectives under each program:

1.Understanding effector and regulatory T cell response in autoimmune, inflammatory diseases and cancer.

2.Targeting host-factors for novel anti-viral and anti-bacterial therapy

3.Understanding the Th9 and Th17 cells in immunity and autoimmunity.

4.Novel small molecule based checkpoint inhibitors (PD1-PDL-1) for cancer immunotherapy

5.Establishment of advanced pre-clinical models to understand disease pathophysiology.

6.Immunobiology of Influenza, SARS-CoV-2 and emerging viral infections.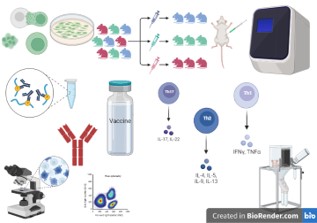 Name of faculty members and Scientists
DR. AMIT AWASTHI, SENIOR PROFESSOR
DR. DEEPAK KUMAR RATHORE, SENIOR RESEARCH SCIENTIST
DR. ZAIGHAM ABBAS RIZVI, SENIOR RESEARCH SCIENTIST
DR. RAMESH CHANDRA RAI, SCIENTIST D
DR. TANVI AGRAWAL, RESEARCH SCIENTIST
DR. SRIKANTH SADHU, RESEARCH SCIENTIST
DR. HARSHIT SINGH, RESEARCH SCIENTIST
DR. RAJDEEP DALAL, JUNIOR RESEARCH SCIENTIST
The centre/facility is open to providing services to academia and industry. For any queries, contact the following
Contact Details
Dr. Amit Awasthi


aawasthi@thsti.res.in


0129- 2876482
News