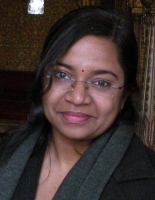 DR.TANVI AGRAWAL
PhD
RESEARCH SCIENTIST
Postdoctoral Fellow, Institute of Liver and Biliary Sciences, New Delhi
Vaccine Research Innovation Awardee, Translational Health Science and Technology Institute, Gurgaon
PhD, National Institute of Pathology (ICMR), New Delhi
MSc., G. B. Pant University of Agriculture and Technology, Pantnagar
BSc., University of Allahabad, Allahabad
Publication
Dhochak N, Agrawal T, Shaman H, Khan NA, Kumar P, Kabra SK, Medigeshi GR, Lodha R. Humoral cross-reactivity towards SARS-CoV-2 in young children with acute respiratory infection with low-pathogenicity coronaviruses. medRxiv. 2021:2021.10.01.21264349. doi: 10.1101/2021.10.01.21264349
Agrawal T, Maiwall R, Rajan V, Bajpai M, Jagdish RK, Sarin SK, Trehanpati N. Higher Circulating natural killer cells and lower lactate levels at admission predict spontaneous survival in non-acetaminophen induced acute liver failure. Clinical Immunology, DOI: 10.1016/j.clim.2021.108829.
Maiwall R, Bajpai M, Singh A, Agrawal T, Kumar G, Bharadwaj A, Nautiyal N, Tevethia H, Jagdish RK, Rajan V, Choudhury A, Mathur RP, Hidam A, Trehanpati N, Sharma MK, Kumar A, Sarin SK. Standard-volume plasma-exchnage improves outcomes in patients with acute liver failure – A Randomized Controlled Trial. Clinical Gastroenterology and Hepatology, DOI: 10.1016/j.cgh.2021.01.036.
Agrawal T, Gaggar A, Subramanian M, Kottilil S, Chaudhary A, Rao PN, Shah S, Trehanpati N. PNPLA3 polymorphisms are associated with raised alanine aminotransferase levels in hepatitis C virus genotype 3. Arab Journal of Gastroenterology, 2020 (Accepted for publication)
Sehgal R, Kaur S, Shasthry SM, Agrawal T, Dwivedi V, Seth D, Ramakrishna G, Sarin S, Trehanpati N. Natural killer cells contribute to pathogenesis of severe alcoholic hepatitis by inducing lysis of endothelial progenitor cells. Alcoholism: Clinical and Experimental Research, 2019, DOI: 10.1111/acer.
Jain N,Oswal N,Chawla AS, Agrawal T, Biswas M, Vrati S, Rath S, George A, Bal V, Medigeshi GR. CD8 cells protect adult mice from JEV induced morbidity via lytic function. PLoS Neglected Tropical Diseases,2017,11(2):e0005329doi.org/10.1371/journal.pntd.0005329.
Medigeshi GR, Kumar R*, Dhamija E*, Agrawal T*, Kar M. N-desmethylclozapine, Fluoxetine and Salmeterol inhibit post-entry stages of dengue virus life-cycle. Antimicrobial Agents and chemotherapy. 2016, 60, 116709-18.
Kumar R, Agrawal T, Khan NA, Nakayama Y, Medigeshi GR. Identification and characterization of the role of c-terminal src kinase in dengue virus replication. Scientific Reports. 2016, 6, doi:10.1038/srep30490.
Agrawal T, Vats S, Nair D, Medigeshi GR. Japanese Encephalitis Virus Disrupts Cell-Cell Junctions and Affects the Epithelial Permeability Barrier Functions. PLoS ONE. 2013, 8, e69465.
Agrawal T, Schu P, Medigeshi GR. Adaptor protein complexes-1 and 3 are involved at distinct stages of flavivirus life-cycle. Scientific Reports. 2013, 3, 1813.
Haridas V, Rajgokul KS, Sadanandan S, Agrawal T, Sharvani V, Gopalakrishna MV, Bijesh MB, Kumawat KL, Basu A, Medigeshi GR. Bispidine-amino acid conjugates act as a novel scaffold for the design of antivirals that block Japanese encephalitis virus replication. PLoS Neglected Tropical Diseases. 2013, Jan ;7(1): e2005
Agrawal T,Bhengraj AR, Vats V, Mittal A. Chlamydia trachomatis:TLR4-mediated recognition by human dendritic cells is impaired following oestradiol treatment. British Journal of Biomedical Science. 2013, 70(2): 51-7.
Agrawal T,Bhengraj AR, Vats V, Salhan S, Mittal A. Expression of TLR 2, 4 and iNOS in cervical monocytes of Chlamydia trachomatis infected women and their role in host immune response. American Journal of Reproductive Immunology, 2011, 66:534-543.
Vats V, Agrawal T, Mittal A. Characterization of apoptotic activities during Chlamydia trachomatis infection in primary cervical epithelial cells. Immunological Investigations, 2010, 39:674-687.
Agrawal T, Vats V, Salhan S, Mittal A. The mucosal immune response to Chlamydia trachomatis infection of the reproductive tract in women. Journal of Reproductive Immunology, 2009, 83:173-178.
Agrawal T, Gupta R, Dutta R, Srivastava P, Bhengraj AR, Salhan S, Mittal A. Protective or pathogenic immune response to genital chlamydial infection in women-A possible role of cytokine secretion profile of cervical mucosal cells. Clinical Immunology, 2009, 130:347-354.
Agrawal T, Vats V, Wallace PK, Singh A, Salhan S, Mittal A. Recruitment of myeloid and plasmacytoid dendritic cells in cervical mucosa during C. trachomatis infection. Clinical Microbiology Infection. 2009, 15:50-59.
Agrawal T,Vats V, Salhan S, Mittal A. Determination of chlamydial load and immune parameters in asymptomatic, symptomatic and infertile women. FEMS Immunology and Medical Microbiology, 2009, 55:250-257.
Agrawal T,Vats V, Salhan S, Mittal A.Role of cervical dendritic cell subsets, costimulatory molecules, cytokine secretion profile and beta-estradiol in development of sequalae to Chlamydia trachomatis infected women. Reproductive Biology & Endocrinology, 2008, 6:46
Agrawal T, Vats V, Salhan S, Mittal A. Mucosal and peripheral immune responses to chlamydial heat shock proteins in women infected with Chlamydia trachomatis. Clinical Experimental Immunology. 2007, 148:461-467.
Agrawal T, Vats V, Wallace PK, Salhan S, Mittal A. Cervical cytokine responses in women with primary or recurrent chlamydial infection. Journal of Interferon and Cytokine Research. 2007, 27:221-226.
Agrawal T, Vats V, Salhan S, Mittal A. Local markers for prediction of women at higher risk of developing sequalae to C. trachomatis infection. American Journal of Reproductive Immunology. 2007, 57:153-159.
Vats V, Agrawal T, Salhan S, Mittal A. Primary and secondary immune response of mucosal and peripheral lymphocytes during Chlamydia trachomatis infection. FEMS Immunology and Medical Microbiology. 2007, 49:280-287.
Awarded Travel Grant from Liver Care Foundation, India to attend 28th Annual meeting of the Asia-Pacific Association for Studies on Liver, 20th-24th February 2019, Manila.
Awarded Vaccine Research Innovation (VRI) Award post-doctoral fellowship by Translational Health Science and Technology Institute, Gurgaon, Haryana.
Awarded Full Travel Grant for attending 11th International Union against Sexually Transmitted Infection (IUSTI) World Congress in Cape Town, November 2009.
Best Poster award at 33rd Indian Immunology Society Conference, New Delhi.
Awarded CSIR-UGC Junior Research Fellowship, 2003.
Awarded Graduate Teaching Assistantship by Department of Microbiology, G.B. Pant University of Agric. & Tech, Pantnagar.
Awarded Shanti Devi Srivastava Gold Medal for botany by University of Allahabad, Allahabad.
TANVI[AT]THSTI[DOT]RES[DOT]IN