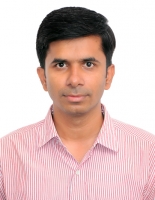 DR.SANTOSH S. MATHAPATI
Ph.D.
ASSISTANT PROFESSOR
B.V.Sc. (D.V.M), Bombay Veterinary College, Mumbai, India
M.Tech. (Medical Biotechnology), Indian Institute of Technology (IIT) Madras, Chennai, India
PhD (Biotechnology), IIT Madras, Chennai, India
Postdoctoral Fellow, University of Oslo, Oslo, Norway
Areas of Interest:
Biological medical devices using animal tissues and polymeric scaffolds, Medical device regulatory, Nonalcoholic fatty liver disease (NAFLD), Medical device biocompatibility and toxicity evaluation, Pluripotent stem cell (PSC)-derived organoids, Product Design, Machine Learning
Present Research Interest:
1) Development of tissue based (biological) medical devices
The use of heart valves, patches, or valved conduits in cardiovascular surgery, particularly in paediatric cardiac surgery, is a widely accepted surgical technique for repair or reconstruction of cardiovascular anatomical deficiencies. Homografts, xenografts, or synthetic or mechanical prosthetic devices are commonly implanted during these surgical procedures. These grafts, however, suffer from disadvantages such as lack of growth potential, have limited durability, and are associated with an increased incidence of repeated surgeries. My laboratory focuses on how these drawbacks can probably be addressed and overcome through the development of living, biologic tissue-engineered valves, patches, and conduits. The purpose of this study is not only to focus solely on methods by which biomaterials are processed but also to assess the ability of such techniques to produce mechanically and biologically suitable tissue surrogates.
2) Pluripotent Stem Cell-Derived Organoid (Hepatic, Neural and Cardiac) Engineering
Human pluripotent cells such as human embryonic stem cells (hESCs) and induced pluripotent stem cells (hiPSCs) share the essential properties of self-renewal and pluripotency o differentiate into all possible cell types of the adult body. My laboratory focuses on developing a 3-Dimensional organoid (hepatic, neural and cardiac) system using hiPSCs and biomaterials for drug discovery, disease modelling and toxicology studies.
3) Nonalcoholic fatty liver disease (NAFLD) in vitro and in vivo modeling.
The worldwide prevalence of nonalcoholic fatty liver disease (NAFLD) has drastically increased in line with the epidemic of obesity. The currently acknowledged theory is the "multiple-hit model," which postulates that genetic, dietary, and environmental factors such as endocrine-disrupting chemicals (EDCs) to the etiopathogenesis of NAFLD. Currently, available preclinical models, be they in vivo or in vitro, do not fully represent critical aspects of the human disease state. To create novel prevention or therapeutic methods, we are developing the right combination of a suitable diet, matched control diet, appropriate rodent model, and in vitro hiPSCs-hepatocytes model.
4) Machine Learning tools/AI tools to achieve biocompatibility of medical device endpoints
The US-FDA, EU-MDR and Indian-FDA and other competent regulatory authorities have released new regulations and guidelines in order to decrease the burden of getting market access for innovative medical devices and reprocessing for medical devices. The project aims to develop a tool which functions as a guide for both researchers and engineers to improve their medical device design and development process concerning biocompatibility using documents such as ISO 10993, US-FDA Guidance, EU-MDR Guidance and ISO 14971. Focus areas include:
Machine learning (ML) algorithms to some toxicology related endpoints
To integrate deep learning techniques into in vitro/in vivo/in silico analysis workflows and new developments in the area of deep learning for computational assessment of toxicology
Publication
Bishi DK, Mathapati SS, PadhiP, Venkataprasanna KS, Ezhilarasu H, RamalingamR, MH Ab Rahim, Venugopal JR. Book Chapter: 13: Advances and applications of biofiber polymer composites in regenerative medicine. Advances in Bio-based Fibre (Accepted).
Rallapalli S, Guhathakurta S, Bishi D , Rajasekaran S, Mathapati SS, Korrapati P.Clinical grade Expansion of Mesenchymal Stromal Cells: A Critical Appraisal of Humanized Alternatives to Fetal Bovine Serum. Biotechnology Letters (Accepted).
Harrison SP, Siller R, Tanaka Y, Xiang Y, Patterson B, Kempf H, Melum E, Åsrud KS, Chollet ME, Andersen E, Sandset PM, Baumgarten S, Bonanini F, Kurek D, Mathapati S, Almaas R, Sharma K, Wilson SR, Skottvoll FS, Boger IC, Bogen IL, Nyman TA, Wu JJ, Bezrouk A, Cizkova D, Mokry J, Zweigerdt R, Park I, Sullivan GJ. Scalable production of tissue-like vascularised liver organoids from human PSCs. bioRxiv; 2020
Siller R, Greenhough S, Mathapati S, Si-Tayeb K, Sullivan GJ. Future Challenges in the Generation of Hepatocyte-Like Cells From Human Pluripotent Stem Cells. Current Pathobiology Reports. 2017;5(3):301-14.
Basak S, Sarkar A, Mathapati S, Duttaroy AK. Cellular growth and tube formation of HTR8/SVneo trophoblast: effects of exogenously added fatty acid-binding protein-4 and its inhibitor. Molecular and Cellular Biochemistry. 2017.
Siller R, Naumovska E, Mathapati S, Lycke M, Greenhough S, Sullivan GJ. Development of a rapid screen for the endodermal differentiation potential of human pluripotent stem cell lines. Scientific Reports. 2016;6:37178.
Mathapati S, Siller R, Impellizzeri AA, Lycke M, Vegheim K, Almaas R, et al. Small-Molecule-Directed Hepatocyte-Like Cell Differentiation of Human Pluripotent Stem Cells. Curr Protoc Stem Cell Biol. 2016;38:1g.6.1-g.6.18.
Bishi DK, Mathapati S, Venugopal JR, Guhathakurta S, Cherian KM, Verma RS, et al. A Patient-Inspired Ex Vivo Liver Tissue Engineering Approach with Autologous Mesenchymal Stem Cells and Hepatogenic Serum. Advanced Healthcare Materials. 2016;5(9):1058-70.
Mathapati S, Bishi DK, Venugopal JR, Cherian KM, Guhathakurta S, Ramakrishna S, et al. Nanofibers coated on acellular tissue-engineered bovine pericardium supports differentiation of mesenchymal stem cells into endothelial cells for tissue engineering. Nanomedicine (Lond). 2014;9(5):623-34.
Guhathakurta S, Mathapati S, Bishi DK, Rallapalli S, Cherian KM. Nanofiber-reinforced myocardial tissue-construct as ventricular assist device. Asian Cardiovascular and Thoracic Annals. 2014;22(8):935-43.
Bishi DK, Mathapati S, Cherian KM, Guhathakurta S, Verma RS. In Vitro Hepatic Trans-Differentiation of Human Mesenchymal Stem Cells Using Sera from Congestive/Ischemic Liver during Cardiac Failure. PLoS ONE. 2014;9(3):e92397.
Ramesh B, Mathapati S, Galla S, Cherian KM, Guhathakurta S. Crosslinked acellular saphenous vein for small-diameter vascular graft. Asian Cardiovascular and Thoracic Annals. 2013;21(3):293-302.
Mathapati S, Bishi DK, Guhathakurta S, Cherian KM, Venugopal JR, Ramakrishna S, et al. Biomimetic acellular detoxified glutaraldehyde cross-linked bovine pericardium for tissue engineering. Mater Sci Eng C Mater Biol Appl. 2013;33(3):1561-72.
Bishi DK, Mathapati S, Reddy VJ, Guhathakurta S, Cherian K, Ramakrishna S, et al. Trans-differentiation of Human Mesenchymal Stem Cells Generates Functional Hepatospheres on Poly (L-lactic acid)-co-poly (ε-caprolactone)/collagen Nanofibrous Scaffolds. J Mater Chem B. 2013.
Balasundari R, Bishi DK, Mathapati S, Naser SB, Cherian KM, Guhathakurta S. Nanocoated Botanical Scaffold in Salvage for Human Tissue Regeneration. Journal of Biomaterials and Tissue Engineering. 2012;2(4):330-5.
Mathapati S, Verma RS, Cherian KM, Guhathakurta S. Inflammatory responses of tissue-engineered xenografts in a clinical scenario. Interactive CardioVascular and Thoracic Surgery. 2011;12(3):360-5.
Mathapati S, Galla S, Sankaranarayanan K, Verma RS, Cherian KM, Guhathakurta S. Qualitative and quantitative detection of sodium deoxycholic acid in decellularized tissue. Indian Journal of Thoracic and Cardiovascular Surgery. 2010;26(2):129-31.
Galla S, Mathapati S, Nayak VM, Cherian KM, Guhathakurta S. Analytical study to evaluate the extracellular matrix in processed acellular xenografts. Indian Journal of Thoracic and Cardiovascular Surgery. 2010;26(2):132-8.
Received Grant-in-aid: Under the scheme Fast Track Scheme for Young Scientists-2009, March 2011-March 2013.
Received financial assistance from Dept. of Science and Technology (DST) International Travel Support Scheme for Participation in Conferences Abroad: Annual meeting of the International Society for Stem Cell Research (ISSCR-2013), June 12-15, 2013 in Boston, Massachusetts.
Received award and certificate for excellent performance at Engineering and R&D Services, HCL Technologies, Chennai during the quarter October 2018.
MR.ANURAG TYAGI
PROJECT ASSOCIATE-I
1) Ms. Bhawna,
Junior Research Fellow,
2) Mr. Sunil,
Junior Research Fellow
3) Mr. Sandeep Kumar
Lab Assistant
Mentoring and Training:
1) 2019-20: Mr. Venkataprasanna K S, Undergraduate Student, SRM University, Chennai. Currently pursuing MS-PhD at University of Tübingen, Germany.
2) 2021: Mr. Arivazhagan S, Undergraduate Student, Bharathidasan University, Tiruchirappalli
SANTOSH[AT]THSTI[DOT]RES[DOT]IN