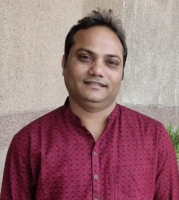 DR.YASHWANT KUMAR
Ph.D.
SENIOR RESEARCH SCIENTIST
Postdoc, Weizmann Institute of Science, Israel.
PhD, National Chemical Laboratory, India.
M.Sc., University of Pune.
Metabolomics research has benefited significant fractions of research investigation focused on understanding, diagnosing and preventing human disease. Large number of potential biomarker has been discovered using metabolomics and many of them has been tested for translational applications. Our research focus on discovery of new biomarker in disease condition using metabolomics, multivariate data analysis and machine learning approaches. This approach can be step forward in disease diagnostics, future prediction and prognosis for any disease condition. At present, using high-resolution mass spectrometer with tandem (MS/MS) and sequential MS/MS (MSn) capability we are trying to measure the whole set of metabolites and lipids in a diabetic condition. We work on complete pipeline from experiment design, sample preparation, analysis, data processing and bioinformatics. Additionally, we are also working on determine the structure of metabolic pathway and flux in diseased condition using stable isotope.
Publication
Fakouri Baygi S, Kumar Y, Barupal DK. IDSL.IPA Characterizes the Organic Chemical Space in Untargeted LC/HRMS Data Sets. J Proteome Res. 2022 Jun 3;21(6):1485-1494. doi: 10.1021/acs.jproteome.2c00120. Epub 2022 May 17. PMID: 35579321; PMCID: PMC9177784.
Das S, Kumar Y, Sharma S, Ray R, Arava S, Seth S, Agarwal A, Sharma G. An Untargeted LC-MS based approach for identification of altered metabolites in blood plasma of rheumatic heart disease patients. Sci Rep. 2022 Mar 28;12(1):5238. doi: 10.1038/s41598-022-09191-z. PMID: 35347173; PMCID: PMC8960827.
Aggarwal H, Pathak P, Singh V, Kumar Y, Shankar M, Das B, Jagavelu K, Dikshit M. Vancomycin-Induced Modulation of Gram-Positive Gut Bacteria and Metabolites Remediates Insulin Resistance in iNOS Knockout Mice. Front Cell Infect Microbiol. 2022 Jan 19;11:795333. doi: 10.3389/fcimb.2021.795333. PMID: 35127558; PMCID: PMC8807491.
Rizvi ZA, Dalal R, Sadhu S, Binayke A, Dandotiya J, Kumar Y, Shrivastava T, Gupta SK, Aggarwal S, Tripathy MR, Rathore DK, Yadav AK, Medigeshi GR, Pandey AK, Samal S, Asthana S, Awasthi A. Golden Syrian hamster as a model to study cardiovascular complications associated with SARS-CoV-2 infection. Elife. 2022 Jan 11;11:e73522. doi: 10.7554/eLife.73522. PMID: 35014610; PMCID: PMC8794466.
Sarkar S, Kumari D, Gupta SK, Sharma V, Mukhi S, Kamboj P, Sasibhushan V, Rai RK, Jatavallabhula SL, Mahajan D, Kumar Y, Kumar A, Dikshit M. Saroglitazar and Hepano treatment offers protection against high fat high fructose diet induced obesity, insulin resistance and steatosis by modulating various class of hepatic and circulating lipids. Biomed Pharmacother. 2021 Dec;144:112357. doi: 10.1016/j.biopha.2021.112357. Epub 2021 Oct 28. PMID: 34794234.
Kamboj P, Sarkar S, Gupta SK, Bisht N, Kumari D, Alam MJ, Barge S, Kashyap B, Deka B, Bharadwaj S, Rahman S, Dutta PP, Borah JC, Talukdar NC, Banerjee SK, Kumar Y. Methanolic Extract of Lysimachia Candida Lindl. Prevents High-Fat High-Fructose-Induced Fatty Liver in Rats: Understanding the Molecular Mechanism Through Untargeted Metabolomics Study. Front Pharmacol. 2021 Apr 15;12:653872. doi: 10.3389/fphar.2021.653872. PMID: 33935766; PMCID: PMC8082144.
Rizvi ZA, Dalal R, Sadhu S, Kumar Y, Kumar S, Gupta SK, Tripathy MR, Rathore DK, Awasthi A. High-salt diet mediates interplay between NK cells and gut microbiota to induce potent tumor immunity. Sci Adv. 2021 Sep 10;7(37):eabg5016. doi: 10.1126/sciadv.abg5016. Epub 2021 Sep 10. PMID: 34516769; PMCID: PMC8442882.
Aggarwal H, Pathak P, Kumar Y, Jagavelu K, Dikshit M. Modulation of Insulin Resistance, Dyslipidemia and Serum Metabolome in iNOS Knockout Mice following Treatment with Nitrite, Metformin, Pioglitazone, and a Combination of Ampicillin and Neomycin. Int J Mol Sci. 2021 Dec 24;23(1):195. doi: 10.3390/ijms23010195. PMID: 35008623; PMCID: PMC8745663.
Pant A, Bag S, Saha B, Verma J, Kumar P, Banerjee S, Kumar B, Kumar Y, Desigamani A, Maiti S, Maiti TK, Banerjee SK, Bhadra RK, Koley H, Dutta S, Nair GB, Ramamurthy T, Das B. Molecular insights into the genome dynamics and interactions between core and acquired genomes of Vibrio cholerae. Proc Natl Acad Sci U S A. 2020 Sep 22;117(38):23762-23773. doi: 10.1073/pnas.2006283117. Epub 2020 Sep 1. PMID: 32873641; PMCID: PMC7519391.
Kumar A, Kumar Y, Sevak JK, Kumar S, Kumar N, Gopinath SD. Metabolomic analysis of primary human skeletal muscle cells during myogenic progression. Sci Rep. 2020 Jul 16;10(1):11824. doi: 10.1038/s41598-020-68796-4. PMID: 32678274; PMCID: PMC7366914.
Mohammed SA, Paramesha B, Kumar Y, Tariq U, Arava SK, Banerjee SK. Allylmethylsulfide, a Sulfur Compound Derived from Garlic, Attenuates Isoproterenol-Induced Cardiac Hypertrophy in Rats. Oxid Med Cell Longev. 2020 Jun 11;2020:7856318. doi: 10.1155/2020/7856318. PMID: 32617142; PMCID: PMC7306095.
Kumari S, Katare PB, Elancheran R, Nizami HL, Paramesha B, Arava S, Sarma PP, Kumar R, Mahajan D, Kumar Y, Devi R, Banerjee SK. Musa balbisiana Fruit Rich in Polyphenols Attenuates Isoproterenol-Induced Cardiac Hypertrophy in Rats via Inhibition of Inflammation and Oxidative Stress. Oxid Med Cell Longev. 2020 Jan 27;2020:7147498. doi: 10.1155/2020/7147498. PMID: 32082481; PMCID: PMC7007945.
Method of predict diabetes outcome susceptibility (201711041969).
Method of preparing nutraceutical and pharmaceutical products based on Musa balbisiana and uses thereof (201911015320)
A Herbal extract for treatment of obesity and related hyperglycemia and a method for its extraction (201831046382A)
To identify unique differential signatures for the diagnosis of stage-specific Non-alcoholic fatty liver disease using the multi-omics approach: A pilot study. (Co-Principal Investigator)
Metabolic profiling as per glycemic status [normoglycemia/prediabetes/diabetes] in women with a history of Gestational diabetes mellitus (GDM)-A cross-sectional study. (Co-Principal Investigator)
Preclinical Evaluations of Select AYUSH Herbal Extracts / Formulations for Mitigating SARS- CoV2 and Associated Pathologies (Co-Principal Investigator)
Multi-Omics Signatures of Human Placenta: Real time assessment of underlying mechanisms for prediction of birth outcomes and development (Co-Principal Investigator)
Metabolite profiling in pregnant mothers: identification of signature metabolites in pregnancies leading to preterm birth. (Co-Principal Investigator)
1. Sonu
2. Sneh
3. Sunali
4. Kartikey
Y[DOT]KUMAR[AT]THSTI[DOT]RES[DOT]IN