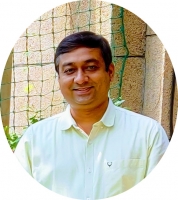 DR.SHAILENDRA MANI
PhD
RESEARCH SCIENTIST
Post-doctoral fellow, Programme in Emerging Infectious Diseases, Duke-NUS Medical School, Singapore
PhD, International Centre For Genetic Engineering And Biotechnology, New Delhi
MSc, School of Life Sciences, Jawaharlal Nehru University, New Delhi
BSc, Department of Zoology, Banaras Hindu University, Varanasi.
Pichia pastoris expressed dengue envelope based virus like particles as safe, efficacious and in expensive dengue subunit vaccines. Indian patent No. 1663/DEL/2011. Shailendra Mani, Lav Tripathi, Karthik Dhatchinamoorthy, Poornima Tyagi, Rajendra Raut,Sathyamangalam Swaminathan, Navin Khanna.
One international patent has been filed under Patent Cooperation Treaty (PCT). PCT/IN2012/00707.
SHAILENDRAMANI[AT]THSTI[DOT]RES[DOT]IN