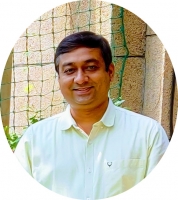 DR.SHAILENDRA MANI
PhD
SENIOR RESEARCH SCIENTIST
Post-doctoral fellow, Programme in Emerging Infectious Diseases, Duke-NUS Medical School, Singapore
PhD, International Centre For Genetic Engineering And Biotechnology, New Delhi
MSc, School of Life Sciences, Jawaharlal Nehru University, New Delhi
BSc, Department of Zoology, Banaras Hindu University, Varanasi.
Our research focuses on studying the cross-reactivity and co-infection of SARS-CoV-2 with other coronaviruses and endemic viruses such as Dengue and influenza. Our ultimate objective is to gain insights into the interplay between these viruses during co-infection and their impact on the immune response. Additionally, we aim to explore the potential occurrence of Antibody Dependent Enhancement (ADE) in the context of coronaviruses and/or other endemic viruses. By deepening our understanding of these phenomena, we aim to develop effective vaccines and antiviral treatments for SARS-CoV-2, while also shedding light on the varying severity of viral infections among individuals.
Our Research focuses in three key areas
1- SARS-CoV2 pandemic preparedness: resource generation for aiding rapid vaccine and antiviral development
As SARS-CoV2 virus pandemic hit India, we urgently required virus based serological assays to be established. Due to requirement of higher containment facility for virus culture, it was restricted to few institutions in India. At THSTI, we successfully established SARS-CoV2 virus culture and viral neutralization assays (cytopathic effect based). We continuously isolate newer circulating variant of SARS-CoV-2 in India and establish variant specific virus neutralization assay. We also provide our expertise to evaluate vaccine and antiviral candidates developed in India.
2- Development of tools to aid public health measures
We have developed a multiplex bead-based platform for detecting coronavirus infection from the serum samples. We next expanding our panel to detect arbovirus/endemic viral infection like Dengue, Zika, Japanese Encephalitis, West Nile, Chikungunya. For vaccine evaluation, we are developing antibody detection platform in multiplex format for Measles, Rubella, Diphtheria and Pertussis. The developed assays will be utilized for large scale community screening, screening for the potential plasma donors, and evaluating the efficacy of the future vaccine and antiviral candidate trials.
3- Understanding the pathogenies and immune response of coronaviruses
For a good coronavirus vaccine deployment, it is very crucial to check/know the sero-prevalence of the other circulating corona virus in the region. Till date 7 coronaviruses are known to infect human including 229E-hCoV, OC43-hCoV, NL63-hCoV, HKU1-hCoV, MERS-CoV, SARS-CoV and SARS-CoV-2. Serological evidences confirmed the presence of 229E-hCoV, OC43-hCoV, NL63-hCoV and HKU1-hCoV in Indian region. The current pandemic virus is circulating in regions where prevalence of the common coronaviruses is very high. Since they are closely related, we want to explore how the other coronaviruses influences the SARS-CoV-2 growth and replication kinetics during co-infections. A better understanding of these phenomena will help to prepare suitable vaccine candidates for SARS-CoV-2 and might explain differential viral severity in individuals.
Pichia pastoris expressed dengue envelope based virus like particles as safe, efficacious and in expensive dengue subunit vaccines. Indian patent No. 1663/DEL/2011. Shailendra Mani, Lav Tripathi, Karthik Dhatchinamoorthy, Poornima Tyagi, Rajendra Raut,Sathyamangalam Swaminathan, Navin Khanna.

Novel silver nano based aqueous sanitizer against pathogens. CBR No. 22957, application no. 202011030085, docket no. 71815.
1. Funding Agency: Coalition for Epidemic Preparedness Innovations (CEPI)
Multiepitope Nanoparticle-based Broadly Protective Betacoronavirus Candidate Vaccine
2. Funding Agency: Bill & Melinda Gates Foundation (BMGF)
Global Immunology and Immune Sequencing for Epidemic Response (GIISER) South Asia
Dr. M.K. Bhan Group Award for the most impactful collaborative research 2022-2023
Dr. M.K. Bhan Group Award for the most impactful collaborative research 2021-2022
Dr. M.K. Bhan Group Award for the most impactful collaborative research 2020-2021
MS.TANIA SARKAR
PROJECT ASSOCIATE-I
MR.BANWARI LAL
SENIOR RESEARCH ASSOCIATE
SHAILENDRAMANI[AT]THSTI[DOT]RES[DOT]IN