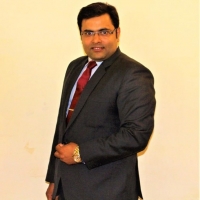 DR.PRANAV TRIPATHI
Ph.D.
MKB-YRFP FELLOW
M.Tech
Former post-doctoral fellow @ IIT Bombay
Dr. Pranav Tripathi is an early-stage investigator working in the area of medical diagnostics and translational bioengineering under the mentorship of Dr. Tarun Kumar Sharma. He is working on aptamer based diagnostics of neonatal hyperbilirubinemia. His idea of innovation lies in introducing accessible and cost-effective technologies by application or design. He was trained in translational biotechnological aspects in IIT Bombay and MNNIT Allahabad.
Area of Expertise:
Nano-Biosensors
Lateral flow assays
Nanostructure synthesis and characterization
Aptamer screening and selection
Biomedical instrumentation
Research interests:
Point-of-care diagnostics
Aptamer screening and selection
Electrochemical sensing
Optical and colorimetric biosensors
Bio-medical devices and smart technologies for laboratory automation.
Publication
Mithilesh Singh, Pranav Tripathi, Smriti Singh, Manisha Sachan, Vishal Chander, Gaurav Kumar Sharma, Ujjwal Kumar De, Sathish Kota, Kalyani Putty, Raj Kumar Singh, and Seema Nara. Identifcation and characterization of DNA aptamers specifc to VP2 protein of canine parvovirus. Applied Microbiology and Biotechnology. 2021, 10;8895–8906.(IF=4.81 )
Pranav Tripathi, Anand Kumar, Manisha Sachan, Sameer Gupta and Seema Nara: Aptamer- gold nanozyme based competitive lateral flow assay for rapid detection of CA125 in human serum. Biosensors and Bioelectronics. 2020; 165; 12368 (IF = 10.61)
Pranav Tripathi, Manisha Sachan and Seema Nara: Novel ssDNA Ligand Against Ovarian Cancer Biomarker CA125 With Promising Diagnostic Potential. Frontiers in Chemistry 05/2020; 8:400. DOI: 10.3389/fchem.2020.00400 (IF = 5.22)
Pranav Tripathi, Neha Upadhyay, Seema Nara: Recent advancements in lateral flow immunoassays: A journey for toxin detection in food. Critical Reviews in Food Science and Nutrition 01/2017; 58(10), 1715-1734 DOI:10.1080/10408398.2016.1276048 (IF = 11.17)
Shefali Singh, Pranav Tripathi, Nitin Kumar, Seema Nara: Colorimetric sensing of malathion using palladium-gold bimetallic nanozyme. Biosensors & Bioelectronics 11/2016; 92., DOI:10.1016/j.bios.2016.11.011. (IF = 10.61)
Sharmila Biswas, Pranav Tripathi, Nitin Kumar, Seema Nara: Gold Nanorods as peroxidase mimetics and its application for colorimetric biosensing of malathion. Sensors and Actuators B Chemical 03/2016; 231., DOI:10.1016/j.snb.2016.03.066. (IF = 7.46)
Pranav Tripathi, Ritu Chaudhary, Ajeet Singh: Virtual screening of phytochemicals to novel targets in Haemophilus ducreyi towards the treatment of Chancroid. Bioinformation 08/2014; 10(8):502-6., DOI:10.6026/97320630010502. (IFRG= 0.44)
Amisha Jain, Pranav Tripathi, Aniket Shrotriya, Ritu Chaudhary, Ajeet Singh: In silico analysis and modeling of putative T cell epitopes for vaccine design of Toscana virus. 3 Biotech; 08/2014; 5(4)., DOI:10.1007/s13205-014-0247-4. (IF = 2.40)
Ritu Chaudhary, Pranav Tripathi, Ajeet Singh: "Synthesis and characterization of novel isoquinoline derivatives for treatment of cancer." Journal of Pharmacy Research, Vol 8(2), 2014. 01/2014; Vol 8(2). (IFTM = 2.97)
Talambedu Usha, Pranav Tripathi, Veena Pande, Sushil Kumar Middha: Molecular Docking and Quantum Mechanical Studies on Pelargonidin-3-Glucoside as Renoprotective ACE Inhibitor. ISRN Computational Biology; 02/2013; 1(1)., DOI:10.1155/2013/428378.
Sushil Kumar Middha, Talambedu Usha, Pranav Tripathi, Kirti Yashwant Marathe, Tarun Jain, Bhargavi Bhatt, Yogini Pradeep Masurkar, Veena Pande: An In vitro studies on indigenous ayurvedic plants, having hypoglycemic activity. Asian Pacific Journal of Tropical Disease 10/2012; 2(Sup 1):S46–S49., DOI:10.1016/S2222-1808(12) 60122-4.
1. Singh Smriti, Tripathi Pranav, Nara Seema(2019) Emerging Point-of-Care Diagnostic Methods for Disease Detection. In: Paul S. (eds) Biomedical Engineering and its Applications in Healthcare. Springer, Singapore.
2. Nitin Kumar, Pranav Tripathi, Seema Nara: Gold Nanomaterials to Plants. Nanomaterials in Plants, Algae, and Microorganisms, 01/2018: pages 195-220;ISBN: 9780128114872, DOI:10.1016/B978-0-12-811487-2.00009-8.
3. Pranav Tripathi, Satish Malik, Seema Nara: Immunoassay Methods in Food Analysis: Innovative Analytical Tools for Safety Assessment. Food Safety, 12/2016: pages 435-453; ISBN: 9781119160557.
Patent granted entitled as 'Smartphone Assisted Gel Imaging Device' vide Design number: 294796; dated 16.06.2017. File no. 70484.
Patent filed;entitled as 'Assay for detecting a target analyte from biological sample and a method of detection thereof'; Application No.: 202111005761, Feb 11, 2021
Patent filed; entitled as 'An Automatic Sanitizer Device' vide application number: 202011030722; dated 18.07.2020..
Patent filed; entitled as 'A Pre-Doffing Personal Protective Equipment Sanitization System' vide application number: 202011030723; dated 18.07.2020.
Patent filed; entitled as 'Gel Imaging System' vide application number: 201711020522; dated 12.06.2017.
Development of a rapid point-of-care assay for the detection of hyperbilirubinemia in neonates
M. K. BHAN Young Researcher award-2020 by Department of Biotechnology, Govt of India.
Research Excellence Award-2020 by Institute of Scholars.
Tony B. Academic Travel Award- 2020' for attending SLAS Europe 2021to be held at Vienna, Austria.
Carl Storm International Diversity Fellowship for attending Gordon Research Conference 'RNA Nanotechnology' in Ventura, California, USA.
Innocentive challenge award for solution to 'Alternatives to antibiotics'. (02/2017). An award of $2500 for the industrial solution.
9651683316
PRANAV[AT]THSTI[DOT]RES[DOT]IN