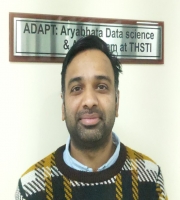 DR.JITENDRA KUMAR BARUPAL
Ph.D.
MKB-YRFP FELLOW
Visiting Fellow Harvard School of Public Health.
Dr. Jitendra is an early stage investigator working in environment health under the supervision of Professor Shinjini Bhatnagar. He is working on identification of epigenetic marks of mixed and specific environmental exposure (e.g. Particulate Matter 2.5) and their association with birth and developmental health outcomes. He got training in environment epidemiology, bioinformatics and statistics at Harvard School of Public Health and at School of Publlic Health, UC Berekely.
In addition, as a member of Aryabhata Data science & AI Program (ADAPT) at THSTI with Dr. Ramachandran Thiruvengadam Principle Scientist-I, and Dr. Bapu Koundinya Desiraju (DBT-Wellcome Trust India Alliance Early Career Fellow), Dr. Jiendra is working on statistical and computational methods to integrate multi-omics data (medical imaging, proteomics, genomics and metabolomics) for various cohort studies including GARBH-Ini Cohort.
Publication
1. Hou, L.*, Barupal, J.*, Zhang, W., Zheng, Y., Liu, L., Zhang, X., Dou, C., McCracken, J. P., Díaz, A., Motta, V., Sanchez-Guerra, M., Wolf, K. R, Bertazzi, P.A., Schwartz, J. D., Wang, S., Baccarelli, A. A. (2016), Particulate Air Pollution Exposure and Expression of Viral and Human MicroRNAs in Blood: The Beijing Truck Driver Air Pollution Study. Environmental Health Perspectives, 124 (3), 344-50. *Contributed equally to the work.
2. Barupal, J. K., Saini, A. K., Chand, T., Meena, A., Beniwal, S." Suthar, J. R., Meena, N., Kachhwaha, S., and Kothari, S. L. (2015), ExcellmiRDB for Translational Genomics: A Curated Online Resource for Extracellular MicroRNAs. OMICS, 19, 24–30.
3. Singh, I. , Nunia, V., Sharma, R., Barupal, J., Govindaraj, P., Jain, R., Gupta, G.N., Goyal, P.K.. (2015), Mutational analysis of telomere complex genes in Indian population with Acquired Aplastic Anemia. Leukemia Research, 39 (11), 1263-1269.
4. Guo, L., Byun, H.-M., Zhong, J., Motta, V.,Barupal, J., Zheng, Y., Dou, C., Zhang, F., Mc-Cracken, J. P., Diaz, A., Marco, S.-G., Colicino, S., Schwartz, J., Wang, S., Hou, L. and Baccarelli, A. A. (2014), Effects of short-term exposure to inhalable particulate matter on DNA methylation of tandem repeats. Environmental Molecular Mutagenesis, 55, 322–335.
5. Carmona,J., Izzi,B., Just,A.,Barupal,J., Binder,A., Hutchinson,J., Hofmann,O., Schwartz,J., Baccarelli,A., and Michels,K. (2013), Comparison of multiplexed reduced representation bisulfite sequencing (mRRBS) with the 450K Illumina Human BeadChip: from concordance to practical applications for methylomic profiling in epigenetic epidemiologic studies. Epigenetics Chromatin, 6, P36.
6.Barupal, J., Jiménez-Garza O, Alegría-Torres J, Kachhwaha S, Reynaga-Ornelas L., Dávalos- Pérez A.(2016), 5′-UTR specific methylation differences in blood DNA of workers exposed to Volatile Organic Compounds. Toxicology Letters, 259:S117.
- "To investigate maternal susceptibility to air pollution for the risk of lower birth weight using blood DNA methylation "(M K Bhan Fellowship, Department of Biotechnology, India).
-
-M K Bhan Young Research Fellowship
-Travel Fellowship, International Biocuration Conference, Toronto, Canada
-Junior Research Fellowship, Council for Scientific and Industrial Research, India
9414760247
JBARUPAL[AT]THSTI[DOT]RES[DOT]IN