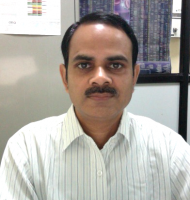 DR.DEEPAK KUMAR RATHORE
PhD
SENIOR RESEARCH SCIENTIST
Research Officer, Translational Health Science and Technology Institute, Faridabad (2012-2019)
Post-doctoral Project Associate from National Institute of Immunology, New Delhi
Ph.D. in Biochemistry from Jiwaji University, Gwalior, M.P.
M.Sc. in Biochemistry from Jiwaji University, Gwalior, M.P.
Area of works:
Leading Flowcytometry core facility
Immunophenotyping and Immunobiology
Research Interest:
Comprehensive Immunophenotyping in Healthy Individuals vs Disease Conditions to measure status of immune response
Research Work Areas Summary:
1. Human Neonatal Biology (Immunophenotyping/ Flowcytometry): Our approaches involved immunophenotypic characterization of umbilical cord blood cells in full-term appropriate and small for gestational age neonates using well standardize flowcytometry method. In our efforts to correlates the frequency of immune cells including T cells, B cells, NK cells, monocytes, neutrophils and dendritic cells and subsets of most of cell types with the birth weight and gestational age of babies. Another approach to evaluate the immune cells indian neonates with overseas and identified the cellular composition of Indian and USA neonates.
2. Hemolytic Disease (Hematological disorders): One of collaborative approach as working on circulating monocytes (CD14+) develop a highly pro-inflammatory (CD14+CD16hi) and procoagulant phenotype when they engulf Hb-activated platelets, and are abundant in patients of PNH and SCD. These cells upon engulfment of Hb-activated platelets, monocytes differentiate into M1- macrophages.
3. Animal Parasite Immunology: Identification purification and characterization of immunogenic excretory/secretory protein from the parasitic nematode Haemonchus contortus of goat and sheep its interaction with host blood cells, which has vast implications in animal husbandry and in understanding host parasite relationship.
Publication
Research Papers:
Binayke A, Zaheer A, Dandotiya J, Gupta SK, Mani S, Tripathi M, Madan U, Shrivastava T, Kumar Y, Pandey AK, Rathore DK, Awasthi A (2022). Innate immune response and distinct metabolomic signatures together drive and shape the SARS-CoV-2-specific T cell response during COVID-19. bioRxiv preprint doi: https://doi.org/10.1101/2022.03.11.483930.

Hingankar N, Deshpande S, Das P, Rizvi ZA, Wibmer CK, Masilo P, Ansari MY, Burns A, Barman S, Zhao F, Mukherjee S, Torres JL, Chattopadhyay S, Mehdi F, Sutar J, Rathore DK, Pargai K, Singh J, Sonar S, Jakhar K, Dandotiya J, Bhattacharyya S, Mani S, Samal S, Singh S, Kshetrapal P, Thiruvengadam R, Batra G, Medigeshi G, Ward AB, Bhatnagar S, Awasthi A, Sok D and Bhattacharya J (2022). A combination of potently neutralizing monoclonal antibodies isolated from an Indian convalescent donor protects against the SARS-CoV-2 delta variant. PLoS Pathogens. 2022 Apr 28;18(4):e1010465. doi: 10.1371/journal.ppat.1010465. PMID: 35482816 (Impact factor 6.8)

Rizvi ZA, Dalal R, Sadhu S, Binayke A, Dandotiya J, Kumar Y, Shrivastava T, Gupta SK, Aggarwal S, Tripathy MR, Rathore DK, Yadav AK, Medigeshi GR, Pandey AK, Samal S, Asthana S and Awasthi A (2022).Golden Syrian hamster as a model to study cardiovascular complications associated with SARS-CoV-2 infection. eLife, 2022 Jan 11;11:e73522. doi: 10.7554/eLife.73522. PMID: 35014610 (Impact factor 8.1)

Kaur J, Rawat Y, Sood V, Periwal N, Rathore DK, KumarS, KumarN, BhattacharyyaS (2022). Replication of Dengue Virus in K562-Megakaryocytes Induces Suppression in the Accumulation of Reactive Oxygen Species. Frontiers in Microbiology, doi: 10.3389/fmicb.2021.784070. PMID: (Impact factor 5.6)

Thiruvengadam R, Awasthi A, Medigeshi GR, Bhattacharya S, Mani S, Sivasubbu S, Shrivastava S, Samal S, Murugesan DR, Desiraju BK, Kshetrapal P, Pandey R, Scaria V, Malik PK, Taneja J, Binayke A, Vohra T, Zaheer A, Rathore D, Khan NA, Shaman H, Ahmed S, Kumar R, Deshpande S Subramani C, Wadhwa N, Gupta N, Pandey AK, Bhattacharya J, Agrawal A, Vrati S, Bhatnagar S, Garg PK (2021). Cellular Immune Responses are Preserved and may Contribute to Vaccine Effectiveness Despite Reduced Virus Neutralization Against Infection due to SARS-CoV-2 B.1.617.2 Variant. Lancet Infectious Disease, 2021 Nov 25:S1473-3099(21)00680-0. (Impact factor 25.0)

Rana S, Maurya S, Mohapatra G, Singh S, Babar R, Chandrasekhar H, Chamoli G, Rathore DK, Kshetrapal P and Srikanth CV (2021). Activation of epigenetic regulator KDM6B by Salmonella Typhimurium enables chronic infections. Gut Microbes, 13(1):1986665. doi: 10.1080/19490976.2021.198666, PMID: 34696686 (Impact factor 10.24)

Perween R, Murugavelu PK, Srivastava T, Parray H, Singh V, Singh S, Chiranjivi A, Jakhar K, Sonar S, Tiwari M, Kumar R, Panchal AK, Sharma C, Rathore DK, Ahmed S, Samal S, Mani S, Bhattacharyya S, Das S, Luthra K and Kumar R (2021). The SARS CoV-2 spike directed non-neutralizing polyclonal antibodies cross-react with Human immunodeficiency virus (HIV-1) gp41. International Immunopharmacology, 2021 Sep 28;101(Pt B):108187. doi:10.1016/j.intimp. 2021.108187, PMID: 34649114 (Impact factor 4.93)

Rizvi ZA, Dalal R, Sadhu S, Kumar Y, Kumar S, Gupta SK, Tripathy MR, Rathore DK, Awasthi A (2021). High salt diet mediates interplay between NK cells and gut microbiota to induce potent tumor immunity. Science Advances 2021Sep; 7(37). doi: 10.1126/sciadv. abg5016. PMID: 8442882(Impact factor 14.4)

Chauhan S, Rathore DK, Sachan S, Lacroix-Desmazes S, Gupta N, Awasthi A, Vrati S, Kalia M (2021). Japanese Encephalitis Virus Infected Human Monocyte-Derived Dendritic Cells Activate a Transcriptional Network Leading to an Antiviral Inflammatory Response. Frontiers in Immunology. 12:638694. Doi: 10.3389/fimmu.2021.638694. PMID:34220803 (Impact factor 7.6)

Sadhu S, Rizvi ZA, Pandey RP, Dalal R, Rathore DK, Kumar B, Pandey M, Kumar Y, Goel R, Maiti TK, Johri AK, Tiwari A, Pandey AK and Awasthi A (2021). Gefitinib Results in Robust Host-Directed Immunity Against Salmonella Infection Through Proteo-Metabolomic Reprogramming. Frontiers in Immunology, doi:10.3389/fimmu.2021. 64870. PMID: 33868285 (Impact factor 7.6)

Singhal R*, Rathore DK*, Bhakuni T, Seth Rand Guchhait P (2019). Absence of non-classical monocytes in patients with PNH or SCD: free Hb and NO mediated mechanism. Journal of Immunology Research. Doi.org/10.1155/2019/1409383(*Equal first author). (Impact factor 3.4)

Rathore DK, HolmesTH,Nadeau K, Mittal P, Batra A, Hasson YR, Sopory S, Gupta R, Chellani HK, Aggarwal KC, Bal V, Natchu UCM, Bhatnagar S, Tavassoli M, Lyell DJ, Rath S, Wadhwa N and MaeckerHT, (2018).Differences in cord blood B-1 cells and other immune parameters between Indian and US Infants. PLOS ONE13(11):e0207297. PMID: 30444901 (Impact factor 2.8)

Singhal R, Chawla S, Batra H, Gupta S, Ojha A, Rathore DK and Guchhait P (2018). Monocytes engulf Hb-activated platelets are differentiated into pro-inflammatory macrophages in hemolytic conditions. European Journal of Immunology. doi: 10.1002/eji.201747449. PMID: 29677388 (Impact factor 4.3)

Malik S, Sadhu S, Elesela S, Pandey RP, Chawla AP, Sharma D, Panda L, Rathore D, Ghosh B, Ahuja V and Awasthi A. (2017). Transcription factor Foxo1 is essential for IL-9 induction in T helper cells. Nature Communications Oct 9;8(1):815. doi: 10.1038/s41467-017-00674-6.PMID: 28993609 (Impact factor 12.0)

Singhal R, Chawla S, Rathore DK*, Bhasym A, Annarapu GK, Sharma V, Seth R and Guchhait P (2017). Development of pro-inflammatory phenotype in monocytes after engulfing Hb-activated platelets in hemolytic disorders. Clinical Immunology175:133-142.PMID: 28039017 (*Second author) (Impact factor 4.0)

Prabhu SB, Rathore DK, Nair D, Chaudhary A, Raza S, Kanodia P, Sopory S, George A, Rath S, Bal V, Tripathi R, Ramji S, BatraA, Aggarwal K C, Chellani HK, Arya S, Bhatla N, Paul VK, Aggarwal R, Agarwal N, Mehta U, Natchu UCM, WadhwaN and Bhatnagar S (2016). Comparison of human neonatal and adult blood leukocyte subset composition phenotypes. PLoS ONE 11(9):e0162242.PMID: 27610624 (Impact factor 3.8)

Rathore DK, Nair D, Raza S, Saini S, Singh R, Kumar A, Tripathi R, Ramji S, Batra A,Aggarwal KC, Chellani HK,Arya S, Bhatla N, Paul VK, Aggarwal R, Agarwal N, Mehta U, Sopory S, Natchu UCM, Bhatnagar S, Bal V, Rath S and WadhwaN (2015). Underweight full-term Indian neonates show differences in umbilical cord blood leukocyte- Acorss sectional study. PLoS ONE, 10(4):e0123589.PMID: 25898362 (Impact factor 3.8)

Shenoy GN, Chatterjee P, Kaw S, Mukherjee S, Rathore DK*, Bal V, Rath S and George A (2012). Recruitment of memory B cells to lymph nodes remote from the site of immunization requires an inflammatory stimulus. Journal of Immunology,189: 521-528. PMID: 22675203 (*Second author) (Impact factor 5.8)

Suchitra S, Anbu KA, Rathore DK, Mahawar M, Singh BP and Joshi P (2008). Haemonchus contortus calreticulin binds to C-reactive protein of its host, a novel survival strategy of the parasite. Parasite Immunology,30:371-374. PMID: 18422872 (Impact factor 2.8)

Rathore DK, Suchitra S, Saini M, Singh BP and Joshi P (2006). Identification of 66kDa Haemonchus contortus excretory/secretory antigen that inhibits host monocytes. Veterinary Parasitology, 138: 291-300. PMID: 16517075 (Impact factor 2.6)
Kumar N, Sharma C, Chaudhuri S, Rathore DK, Kumar S, Haldar S, Pillai J, Bhatnagar S. "Flow-cytometry based rapid method of testing antimicrobial drug susceptibility and resistance in biological fluids". (TEMP/E-1/48033/2017-DEL; filed December 28, 2017)
Executive Council Member of Indian Immunology Society (Since 2018).
Life membership of Society for Immunology & Immunopathology.
The Cytometry Society (India).
Life Membership of Indian Immunology Society.
Editorial Board Member of International Journal of Immunology (since Nov.2021).
Awards:
Dr. MK Bhan Group award for the most impactful research collaboration in the Institute at THSTI Faridabad on July 15, 2021.
Awatar Krishan prize in the 14th Indo-US Cytometry Workshop at Institute of Life Sciences, Bhubaneswar, India.
The best poster presentation award in the 3rd National Extension Education Congress at N.D.R.I. Karnal, India.
DRATHORE[AT]THSTI[DOT]RES[DOT]IN