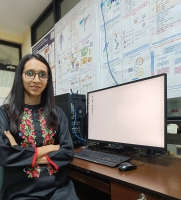 DR.DAIZEE TALUKDAR
PhD
RESEARCH SCIENTIST
Research associate (Functional Genomics Laboratory, THSTI)
PhD Biotechnology
Msc Microbiology
Bsc Biotechnology
Broad areas of research:
1. Undestanding the role of vaginal microbiota of Pregnant Indian women and its role in birth outcome (Term/Preterm)
2. Understand the genome of different Lactobacillus species from the vaginal mileu of Pregnant Indian women and identify functions that may be linked antiinflammatory, antimicrobial resistance properties
Publication
Mehrotra T., Konar D., Pragasam AK., Kumar S., Jana P., Babele P., Paul D., Purohit A., Tanwar S., Bakshi S., Das S., Verma J., Talukdar D., Narendrakumar L., Kothidar A., Karmakar SP., Chaudhuri S., Pal S., Jain K., Srikanth CV., Sankar JS., Atmakuri K., Agarwal R., Gaind R., Ballal M., Kammili N., Bhadra RK, Ramamurthy T., Nair GB. Das B (20 23). Antimicrobial resistance heterogeneity among multidrug-resistant Gram-negative pathogens: Phenotypic, Genotypic and Proteomic analysis. Proc. Natl. Acad. Sci. U S A (Accepted). doi.org/10.2139/ssrn.4380048.
Saikrishna K, Talukdar D, Das S, Bakshi S, Chakravarti P, Jana P, Karmakar S, Wig N, Ray A, DasB (2023) Study on effects of probiotics on whole gut microbiome and clinical course in patients with critical care illnesses. Microbial Ecology
Talukdar D, Bandopadhyay P, Ray Y, Paul SR, Sarif J, D'Rozario R, Lahiri A, Bhowmick D, Chatterjee S, Das B, Ganguly D (2023) Association of gut microbial dysbiosis with disease severity, response to therapy and disease outcomes in Indian patients with COVID-19. Gut Pathogens
Kumar, S., Mehrotra, T., Talukdar, D., Verma, J., Chandra Karmakar, B., Paul, S., Chaudhuri, S., Kumari Pragasam, A., Bakshi, S., Kumari, S., Chawla, M., Purohit, A., Porey Karmakar, S., Mutreja, A., Banerjee, S., Ray, A., Ramamurthy, T., Mukhopadyay, A. K., & Das, B. (2022). Region-specific genomic signatures of multidrug-resistant Helicobacter pylori isolated from East and South India. Gene, 847, 146857. (Contributing first author)
MehrotraT, Devi TB, Kumar S, Talukdar D, Karmakar SP, Kothidar A, Verma J, Kumari S, Alexander SM, Retnakumar RJ, Devadas K, Ray A, Mutreja A, Nair GB, Chattopadhyay S, Das B (2021) Antimicrobial resistance and virulence in Helicobacter pylori: Genomic insights. Genomics.2021 Oct 5;113(6):3951-3966. (Contributing first author)
KumarS, KumariN, Talukdar D, Kothidar A, Sarkar M, Mehta O, Kshetrapal P, Wadhwa N, Thiruvengadam R, Desiraju BK, GARBH-Ini study group, Nair GB, Bhatnagar S, Mukherjee S, Das B, (2021). The Vaginal Microbial Signatures of Preterm Birth Delivery in Indian Women.Front Cell Infect Microbiol.2021 April, doi: 10.3389/fcimb.2021.622474 (Contributing first author)
D Talukdar, T Jasrotia, R Sharma, S Jaglan, R Kumar, R Vats, R Kumar, Evaluation of novel indigenous fungal consortium for enhanced bioremediation of heavy metals from contaminated sites. Environmental Technology & Innovation 20, 101050.
D Talukdar, R Sharma, S Jaglan, R Vats, R Kumar, MH Mahnashi, A Umar. Identification and characterization of cadmium resistant fungus isolated from contaminated site and its potential for bioremediation, Environmental Technology & Innovation 17, 100604
R Sharma, D Talukdar, S Bhardwaj, S Jaglan, R Kumar, R Kumar, Bioremediation potential of novel fungal species isolated from wastewater for the removal of lead from liquid medium, Environmental Technology & Innovation 18, 100757
Daizee Talukdar, Teenu Jasrotia, Ahmed Umar, Rajeev Kumar, Raman Kumar et al., Mechanistic and analytical understanding of biological immobilization of chromium metal ions from waste-sites, Journal of Environmental Chemical Engineering.https://doi.org/10.1016/j.jece.2022.107498
Daizee Talukdar, Narender Chaudhry, Rohit Sharma, Raman Kumar and Tapan K. Mukherjee. Recent Advances in Asthma Genetics and Antiasthma Therapy. Current Respiratory Medicine Reviews. 2014, 9(4); 261-267.
Rohit sharma, Daizee Talukdar, Parth Malik and Tapan mukherjee. Failure of Immunological cells to eradicate tumor and cancer cells: An Overview. Turkish journal of biology. 2014.
Daizee Talukdar, Rohit Sharma, Raman Kumar and Anil Sharma. Drug Resistance in Tuberculosis: Role of Nanomedicine and Iron Chelation. Current pharmaceutical Biotechnology. 2014.
Daizee Talukdar and Raman Kumar. Recent Advances in Environmental Biotechnology. Environmental Pollution. 2015. NOVA Publisher. USA.
Daizee Talukdar, Rohit Sharma and Raman Kumar. Agricultural Biotechnology. Springer Publication. 2012.
DAIZEETALUKDAR[AT]THSTI[DOT]RES[DOT]IN