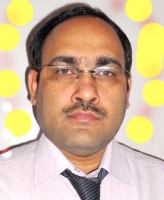 DR.PRABHAKAR TIWARI
PhD
RESEARCH SCIENTIST
2016-2020: Research Scientist and Senior Research Scientist at Glenmark Research Center, Navi Mumbai
2012-2016: Research Associate and Senior Research AssociateShip at THSTI, NCR Biotech Science Cluster, Faridabad
PhD in Life Science
MSc in Biotechnology
Area of Expertise: Core hands on immuno-oncology, oncology, inflammation, infectious disease and neurological disorders using various tools of drug discovery like molecular cell biology, immunology, invitro-biology, exvivo and invivo biology approaches.
Area of Interest:
My current research focus is drug discovery research in Mycobacterium tuberculosis using preclincal and clinical research tools to identify and explore the new targets in pathogens and host directed therapeutics approaches.
Publication
Deep A, Tiwari P, Agarwal S, Kaundal S, Kidwai S, Singh R, Thakur KG. Structural, functional and biological insights into the role of Mycobacterium tuberculosis VapBC11 toxin-antitoxin system: targeting a tRNase to tackle mycobacterial adaptation. Nucleic Acids Res. 2018 Nov 30; 46(21):11639-11655.
Agarwal S, Tiwari P, Deep A, Kidwai S, Gupta S, Thakur KG, Singh R. System wide analysis unravels differential regulation and in vivo essentiality of VapBC TA systems from Mycobacterium tuberculosis. J Infect Dis. 2018 Feb 24.
Kidwai S, Park CY, Mawatwal S, Tiwari P, Jung MG, Gossain T, Kumar P, Alland D, Kumar S, Bajaj A, Hwang KY, Song CS, Dhiman R, and Lee YIII and Singh R. The dual mechanism of action of 5-Nitro-1, 10-Phenanthroline against Mycobacterium tuberculosis. 2017, Antimicrob Agents Chemother. 2017 Oct 24; 61(11).
Singh M, Tiwari P, Arora G, Agarwal S, Kidwai S, Singh R. Establishing Virulence Associated Polyphosphate Kinase 2 as a drug target for Mycobacterium tuberculosis. Sci Rep. 2016 Jun 9; 6:26900.
Tiwari P, Arora G, Singh M, Kidwai S, Yadav OP and Singh R. MazF ribonucleases promote persistence and virulence of Mycobacterium tuberculosis in guinea pigs. Nat Communication. 2015 Jan 22; 6:6059.
Dwivedi R, Gupta YK, Singh M, Joshi R, Tiwari P, Kaleekal T, Tripathi M. Correlation of saliva and serum free valproic acid concentrations in persons with epilepsy. Seizure. 2015 Feb; 25:187-90.
Arora G, Tiwari P, Mandal RS, Gupta A, Sharma D, Saha S, Singh R. Identification of inhibitors specific for M. tuberculosis phosphoserine phosphatase. J.Biol. Chem. 2014 289: 25149-25165.
Singh R, Singh M, Arora G, Kumar S, Tiwari P, and Kidwai S. Polyphosphate deficiency in Mycobacterium tuberculosis is associated with enhanced drug susceptibility and impaired growth in guinea pigs. J Bacteriol. 2013 Jun; 195(12):2839-51. doi: 10.1128/JB.00038-13. Epub 2013 Apr 12.
Tiwari P, Dwivedi R, Mansoori N, Alam R, Chauhan UK, Tripathi M, Mukhopadhyay AK. Do gene polymorphism in IL-1-beta, TNF-alpha and IL-6 influence therapeutic response in patients with drug refractory epilepsy?, EpilepsyResearch (2012) 101, 261-267.
Singh RK, Gupta S, Tiwari P, Saini S, Malik R, Kant R, Dastidar SG, Ray A. A Fluorescent based enzyme assay for recombinant human lipoxygenase enzyme isoforms. Pharmacologia, 2012, 3(9):387-396.
Sundaram S, Tiwari P, Saini S, Kant R, Davis JA, Sahdev S, Saini KS. Baculovirus expression system: an alternative for producing catalytically active human PTP-1B. Mol Biol (Mosk). 2010 May-Jun; 44(3):535-40.
Tiwari P, Saini S, Upmanyu S, Benjamin B, Tandon R, Saini KS, Sahdev S. Enhanced expression of recombinant proteins utilizing a modified baculovirus expression vector. Mol Biotechnol. 2010, Sep; 46(1):80-9.
Sahdev S, Saini S, Tiwari P, Saxena S, Singh Saini K. Amplification of GC-rich genes by following a combination strategy of primer design, enhancers and modified PCR cycle conditions. Mol Cell Probes. 2007, Aug; 21(4):303-7.
Chairman Excellence Award for Best Team R&D innovation (2019) at Glenmark Research Centre, Mahape, Navi Mumbai.
Spot Award (2019) for the development of In-vitro immunological assays at Glenmark Research Centre, Mahape, Navi Mumbai.
Business Excellence Award (2018) for the development of In-vitro assays at Glenmark Research Centre, Mahape, Navi Mumbai.
Selected for CSIR SRA Scientist Pool Scheme (pool officer) in CSIR, HRDG, Govt of India on March 2015.
Team Excellence award: For the production of low cost recombinant therapeutics enzymes in Nobel Drug Discovery Research (NDDR) RANBAXY Research Laboratories, Gurgaon, Haryana, India.
Fellowship Awarded for BITP: by BCIL, New Delhi at Department of Biotechnology, Ranbaxy Research Laboratories, Gurgaon, Haryana, India.
01292876224
PTIWARI[AT]THSTI[DOT]RES[DOT]IN